Installing Ultraseal is easily accomplished using our specially designed high-pressure pumps, valve core removal tools and attachments. In the vast majority of cases, Ultraseal is simply pumped through a tire's valve after the installer has removed the valve core. Removal is quick and easy using our patented valve core remover tools. An average automobile tire can be treated in less than two minutes, with typical truck and heavy equipment tires taking three to five minutes. Times will vary depending on a vehicle's wheel configuration and your familiarity with Ultraseal tools and techniques.
Treating mounted tires that have not yet been installed on vehicles can cut installation times by as much as half due to easy access and proximity. This is a common practice in fleet operations. It is not necessary to immediately mount treated tires; Ultraseal will lie dormant at the bottom of a tire until rotated. If treated tires are to be stored for an extended period, it is beneficial to spin them on a balancing machine allowing Ultraseal to evenly coat the interior. This will reduce porosity and bead leaks, insuring tires retain air pressure and are fully inflated when ready to be placed into service. Ultraseal will not cure within an inflated tire regardless of how long it is stored (within the 5-year shelf life).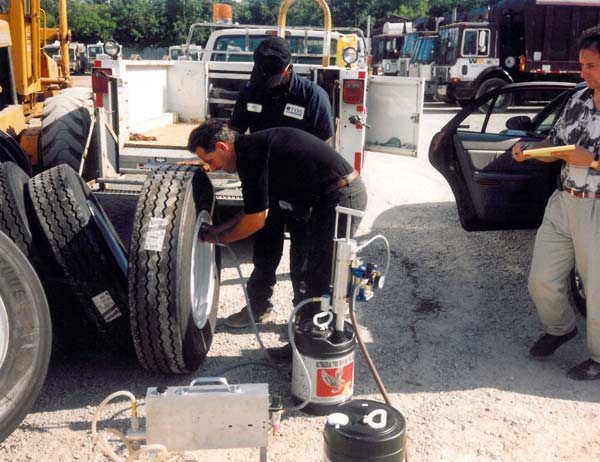 Important: For highway vehicles, always install Ultraseal into tires that have been previously balanced! Never attempt to re-balance tires with ANY brand of sealant in them!
1-Gallon Instructions:
Installing Ultraseal is an easy process following these simple steps:
Assemble pump and screw onto Ultraseal jug.
Remove valve core, placing thumb over valve stem to minimize air loss.
Attach pump hose to valve stem and pump in recommended amount of Ultraseal. (Refer to Tire Charts).
Detach pump hose placing thumb over valve stem.
Replace valve core.
Re-air tire to recommended p.s.i.
5-Gallon Instructions:
Installing Ultraseal is an easy process following these simple steps:
Attach hose to pump handle.
Install black bung onto pail.
Install pump into pail through black bung, secure.
Attach Valve Core Remover to pump hose. Make sure hose valve is in "closed" position (right angle to hose).
Attach Valve Core Remover to valve stem, rotate knob until you feel notch. Apply inward pressure on knob, locking shaft flanges onto valve core.
Unscrew valve core, allow air pressure to force valve core into Valve Core Remover.
Rotate hose valve to "open" position (parallel to hose).
Pump in recommended amount of Ultraseal. (Refer to Tire Charts).
Rotate hose valve to "closed" position.
Gently screw valve core back into valve stem. Do not cross-thread.
Detach Valve Core Remover from valve stem.
Attach Valve Core Remover to pail return spout.
Depress pump to return unused sealant to pail.
Re-air tire to recommended p.s.i.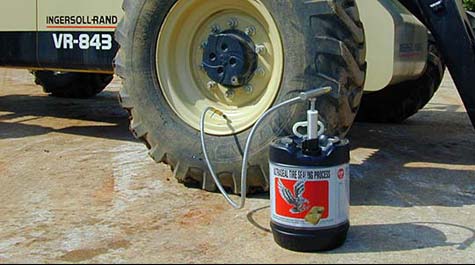 Selecting the Right Tools for Installation
There is a full line of time saving Ultraseal tools and attachments to choose from, each tailored to a specific task and situation. The correct combination is determined by considering the following:
Installation environment (maintenance facility, service garage, remote location)
Vehicle or equipment type (automobile, medium to large truck, bus, heavy equipment, etc.)
Wheel configuration (single or dual)
Size and placement of tire valve (standard or large bore, inward or outward facing, etc.)
Quantity of tires to be treated
Workflow
Pumps
Ultraseal installation pumps are supplied in two styles: manual and air-operated.
Manual pumps are generally sold for use with 5-gallon pails. This light and portable combination is well-suited for treating tires wherever vehicles are in operation, such as job sites or other remote locations. It is often more convenient and cost effective than moving vehicles and equipment to facilities for treatment. The combination of a 5-gallon pail and manual pump is a perfect complement and fit (size-wise) for tire service trucks providing emergency service and repairs. This is invaluable for reducing downtime should a replacement tire not be readily available.
Our air-operated pump is popular in fleet operations that commonly install Ultraseal from 55-gallon drums or 275-gallon totes. This is the obvious choice where an air source is available and high volumes of tires are to be treated. Featuring a conveniently located pneumatic start switch at the outboard end of an extra long hose and settable predetermined counter, this pump increases productivity and reduces installation time.
Each manual or air-operated pump is calibrated and metered to consistently deliver the correct amount of Ultraseal into your tires. Both feature a high-pressure design eliminating the need to reduce tire pressure for product installation, regardless of the size or weight of the vehicle. This is a major time saver. Whichever pump best fits your needs, you can be assured that it has been designed specifically to provide long-term service and ease of use.
Chucks, Couplers and Valve Core Removal Tools
Our universal chucks, couplers and valve core removal (VCR) tools are designed for use with either manual or air-operated pumps. These tools and attachments quickly and securely connect installation equipment to any standard wheel andvalve configuration. Each VCR tool locks on and firmly holds the removed core. The Deluxe VCR tool features an airtight design that enables a core to be removed with little or no air loss.